Composite Pipe for Mine
Mining Rubber HoseMining rubber hose is generally used for slurry transportation. As the following picture shows, slurry hose is made up of outer rubber cover, steel wire skeleton, bonding layer, composite material layer and abrasion resistant layer. The abrasion resistant layer adopts high quality natural rubber latex which is processed by nanometer formula, thus able to resist abrasion...
Steel and Rubber Composite PipeSteel and rubber composite pipe uses steel or hard material in the external framework. Inside, it is lined with anticorrosive, wear resistant and temperature resistant rubber. Thus, wear resisting composite pipeline has the properties of both metal and rubber. The physical and chemical properties of rubber can well protect pipe from impact, abrasion, and so on...
Introduction
Rubber lined composite pipe employs common steel pipe as framework and imported anti-wear anticorrosive rubber as liner. The two parts are connected by adhesive. Thus, composite pipe for mine has the dual advantages of steel pipe and rubber materials. Nowadays, it has become the first-choice mining transportation equipment.
Features of Rubber Lined Composite Pipe
1. Wide application
2. High impact resistance
3. Good wear resistance
4. Good anti corrosion
5. Long service life
6. Easy installation and maintenance
7. Recyclable screen panel.pdf
Component
Rubber lined composite pipe is mainly composed of metal framework and rubber.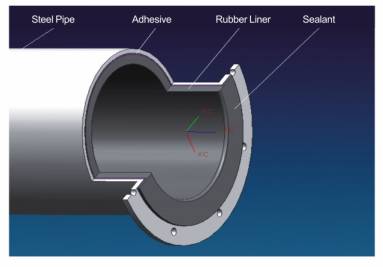 Attention
Select appropriate mode of composite pipe for mine according to various minerals and slurry.
Packaging and Shipping
1. Rubber lined composite pipe should be packed in iron cases.
2. Ocean shipping and land transportation are both available.
Payment and Delivery Time
1. L/C and T/T are two available types of payment.
2. Rubber lined composite pipe should be delivered within 30 to 60 days after receiving down payment.
After-sale Service
Field installation and maintenance will be provided basing on that purchase orders of composite pipes for mine reach a certain amount.
With development of eight years, Jiangxi Naipu has accumulated quite a little experience both in designing and manufacturing rubber lined composite pipe. The company has Chinese first-class mining equipment designing capacity and new material developing ability. Naipu also has advanced manufacturing machines. For another, the company builds up close technological relationships with institutes and universities. All our products are certified by ISO9001 and ISO14000.